Everything seems to be more complicated with eye makeup: how to combine perfect blendability, super stability and speed of application? Let's learn how to apply, shade, and combine it with liquid eye shadows.
How to use
Fluid eye shadow is a primer, a pigment and a fixer in one bottle. It means that instead of using a base, a pencil and a palette of dry shadows to create a spectacular smoky eye, you can use just one product.
Of course, there are nuances. Firstly, it is worth taking into account the texture of the product.
Matte liquid shadows
The versatility of matte liquid shadows is that they can be used both in mono makeup and as a base.
Pearlescent liquid shadows
Shimmering shadows always look impressive, they are convenient to layer with each other and create beautiful color transitions.
Matte textures adhere better to the skin and last much longer on your eyelids than pearlescent shades. Plus, you have to keep in mind your skin type and eye shape. It's an active facial expression zone: we're constantly blinking, laughing and squinting. And that means that the skin moves with the pigment that is applied to it. This can cause makeup staying power to suffer, especially in the case of a droopy eyelid. Try out different options, and if necessary, fix your eye makeup with a thin layer of powder or a dry shadow to match.
If your eyelids are usually quick to roll off any makeup, try this combo:
A primer (apply it to your eyelid skin and let it set);
Liquid eye shadow (blend it into the shape you want and let it dry, too);
Dry shadow (fix the resulting pattern in one color or add several different shades).
This recipe will make your makeup super resistant even on the most finicky skin.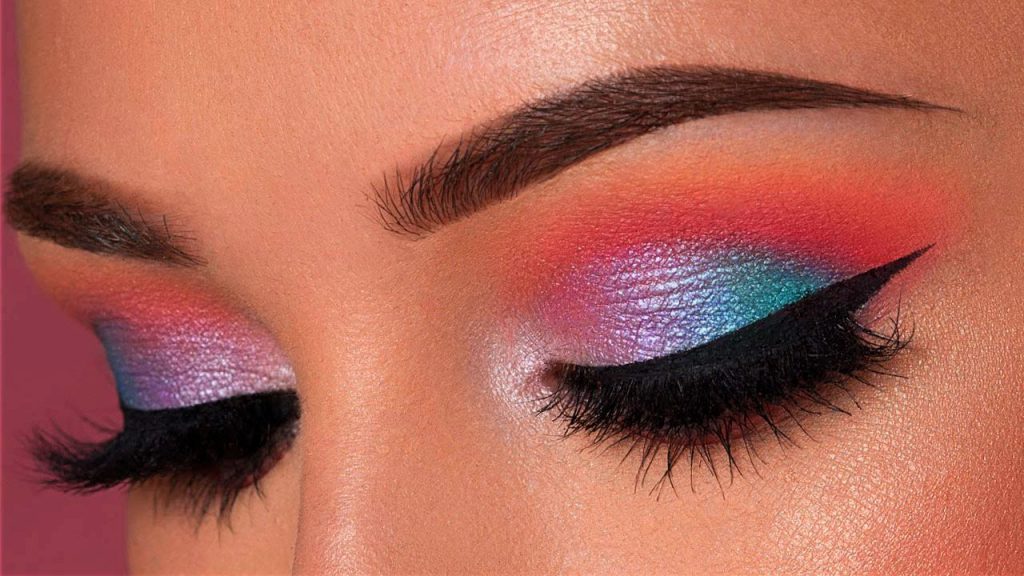 How to apply liquid shadows
Perhaps the biggest plus of liquid shadows is that you don't need any additional tools for makeup. The product already has a handy applicator that you can use to apply the product directly to your eyelid. And you don't need any brushes for shading; you can use your hands for everything.
Don't apply too much product at once, because it's much more convenient to add and blend shadows while you're applying makeup. Using the pad of your finger, smooth the first dose right across the eyelid, moving from the lashline to the brow bone. Don't rub or press the skin, but use a patting motion. They should be light and weightless. The warmth of your hands will help the pigment lay evenly.
When the first layer has set on the skin, add some more pigment on the moving eyelid: here you need more brightness and staying power.
If necessary, finish your makeup with powder or dry eyeshadow. Done!
What to combine liquid eye shadow with
For a quick everyday makeup look, to match the liquid shadows, some mascara will be enough. If you have time, don't let anything limit your imagination.
For a multicoloured tuxedo-ayes, try combining several shades of liquid shadow at once.
Draw wide, graphic arrows. To do this, apply eye shadow in a thick layer. Use a slanted brush to get the shape perfect. The edges of the arrow can be cleaned with a cotton swab soaked in micellar water.
Liquid eye shadow can be used for more than just its intended purpose. In fact, it's just a creamy permanent pigment. A successful shade of brown is suitable for sculpting, and pink – as a blush. Shimmering shadows can be used as a highlighter. The main thing is not to procrastinate with shading, otherwise the product will lock on the skin and leave a smudge.
To remove liquid shadows from the skin, any makeup remover will do.